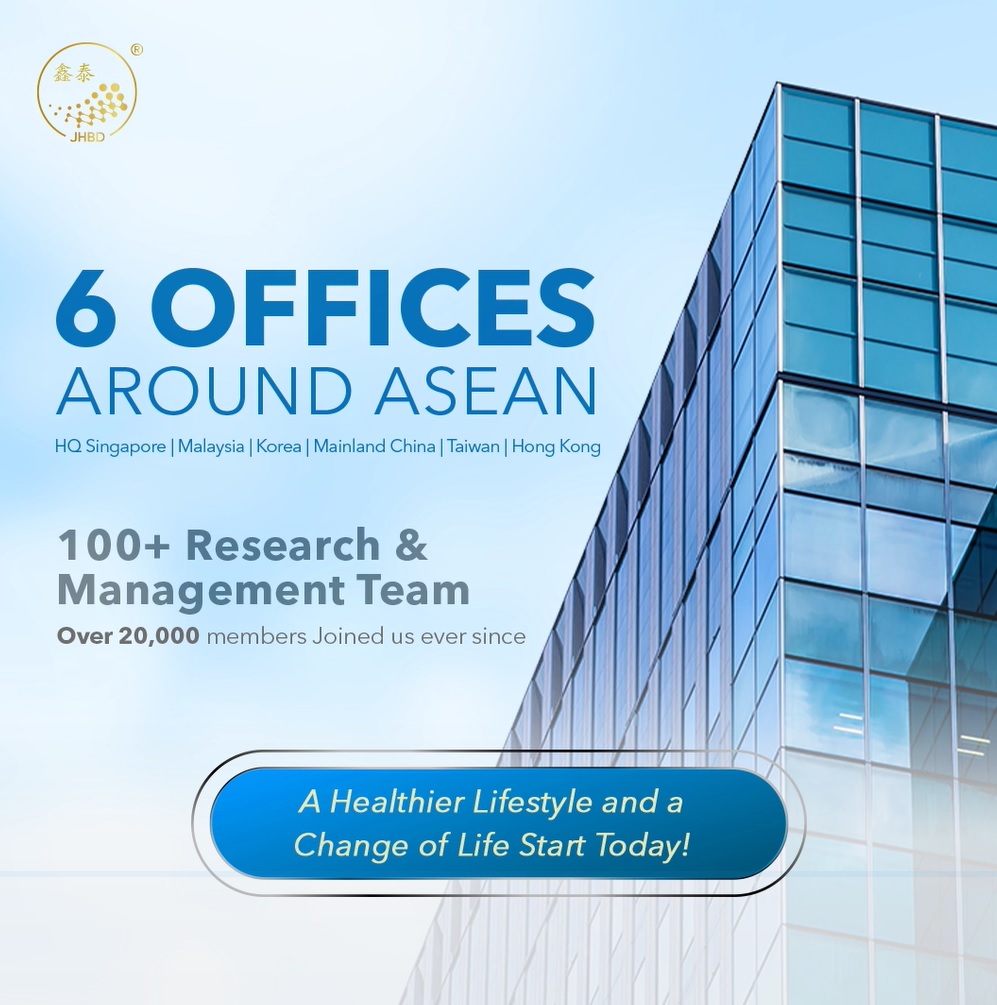 JHBD Group Introduction
JHBD Group was established in Singapore in year 2015. It is a multinational group company integrating with R&D, production, sales and service.
The group includes 'JHBD Enterprise Co., Ltd.' and 'Kuirui Agricultural Development Co., Ltd.', which focus on R&D and productions. And 'JHBD Biotechnology Pte Ltd.', which focuses on sales and services.After years of hard work, we have set up branches in six countries and regions including Singapore, Malaysia, South Korea, Mainland China, Taiwan and Hong Kong.
JHBD Group is determined to become a developer of bio-active peptides and primary scientific research products of life science, a provider of high-standard raw materials, and a promoter of high-quality products to create a well-known brand in the life science industry.
In terms of research and development, the Group has actively established industry-university-research partnerships with universities, such as Temasek Polytechnic in Singapore, University of Malaysia, and Jiangnan University in China, successively established provincial-level postgraduate workstations, and national functional food industrialization bases. As of now, we have obtained three inventions and eleven utility model patents.
In addition, the Group has joined forces with authoritative institutions such as the Zhejiang Research Institute of Traditional Chinese Medicine, Zhejiang Provincial Center for Disease Control and Prevention, and Zhejiang University to establish a provincial-level okra functional food research and development center, and obtained four inventions and utility model patents.
Close cooperation with universities ensures the leading position of the Group's products in the industry.
In order to ensure product quality and minimize costs, the Group has invested heavily in Johor Malaysia, Jiangsu and Zhejiang provinces in China to establish production bases for plant extracts, soybean peptides, peanut peptides, silkworm peptides and also okra. We own 3,200 acres of pollution-free standardized production bases and 1,000 acres of organic agricultural product production demonstration areas. We also built a standardized processing plant of 5,000 square meters (GMP purification workshop) to ensure the product qualities. Our products have successively passed a series of food product quality certifications such as Food Safety System Certification 22000 (FSSC 22000), HACCP Certificate, Organic Food Certificate, SGS and SC certifications.
Our main products include various of plant protein peptides, peanut polysaccharides and healthy edible oil produced through the water enzymatic process with independent intellectual property rights. The most competitive price and superior quality makes our products popular in many countries especially in EU, Mainland China and Southeast Asian markets.
In terms of sales and services, the Group is committed to creating a new business model across borders, combining precision medicine with the big health industry and the Internet economy with the real economy, making full use of industry advantages, taking innovation and new business models as a breakthrough, developing an all-round international market and establishing an independent sales network. Through continuous resource integration, the use of mobile Internet and Internet of Things and other technological means, as well as advanced technologies such as big data and artificial intelligence, the circulation and sales process of commodities are greatly upgraded and transformed. We aim to organically integrate traditional economies, franchises, online shopping, sharing economy and big health industries, to ensure the continuous and stable development of the Group, subvert and change people's way of life.
JHBD Group has been adhering to the corporate culture of "润泽至善". "润" means that JHBD Group will be devoted to nourishing and brightening all things on earth like water, bearing corporate responsibilities and making contributions to the society as an inclusive enterprise. With regard to "泽", JHBD Group will quickly pool talents, gather money and collect fortune for a bright future. Referring to the mind and original intention of all JHBD employees and the behavior guideline of JHBD Group, "至善" includes all good wills such as reality, love, integrity and wisdom, reflects the overall moral character and the starting point of an enterprise and shows that JHBD Group will treat people with the heart of kindness, do things with the thought of perfection and become the birthplace of love to share health and wisdom.
To face the challenges of the future, we will adhere to the core concept of "health, wealth and value," and always take "preventive measures," "non-drug treatment," and "good ending" as the guiding ideology, strive to create a membership based smart healthcare center, smart elderly care base, Grade A healthcare industry organic ecosystem combined with scientific and technological production bases. Boundless is the sea for fish to dive at will, and unlimited is the sky for birds to fly at ease! The JHBD Group will work hard, be indomitable, persistent, so as to build the world's top biological health industry cluster with our professional attitude and perspective.
鑫泰集团简介
鑫泰集团于2015年成立于新加坡,是一家集研发、生产、销售、服务于一体的跨国集团公司。集团旗下包括了以研发生产为主的鑫泰实业有限公司,葵瑞农业发展有限公司,以及以销售和服务为主的鑫泰生物科技有限公司。经过几年的努力已经在新加坡、马来西亚、韩国、中国大陆、台湾、香港等6个国家和地区设立了分公司。鑫泰集团立志塑造生命科学行业著名品牌,成为生物活性肽及生命科学基础科研产品的研发者,高标准原材料的提供者和高品质产品的推广者。
在研发方面,集团积极与高校建立产学研合作关系,分别与新加坡淡马锡理工学院,马来西亚大学,中国江南大学建立产学研合作关系,先后成立了省级研究生工作站,建立国家级功能食品产业化基地,并已拥有 3 项发明和 11 项实用新型专利。与此同时还与浙江省中药研究所、浙江省疾病预防控制中心、浙江大学等权威机构强强联手成立省级黄秋葵功能性食品研发中心,拥有4 项发明和实用型专利。通过与高校紧密合作,确保了集团产品始终处于行业领先地位。
为了确保产品的品质同时做到成本最低化,集团斥巨资在马来西亚柔佛州,中国江苏省和浙江省建立了植物提取物、大豆肽、花生肽、蚕蛹肽产业基地和黄秋葵产业基地,拥有3200亩无公害标准化生产基地及1000亩有机农产品生产示范区,建有5000平方米的标准化加工厂房(GMP净化车间),先后通过了欧盟FSSC22000食品安全、ISO22000、ISO9001、HACCP、有机食品、SGS、SC等一系列企业和产品质量认证。主要产品有通过拥有自主知识产权的水酶法工艺生产的各类植物蛋白肽、花生多糖以及健康食用油等,价廉物美使得集团的产品在多个国家畅销,深受欧盟、中国、东南亚等市场青睐。
在销售和服务方面,集团致力于跨界打造全新商业模式,将精准医疗与大健康产业结合,将互联网经济与实体经济结合,利用行业优势,以创新新 业态商业模式为突破口,全方位发展国际市场,建立自主销售网络。通过不断整合资源,集团集聚优势,运用移动互联网、物联网等科技手段,大数据、人工智能等先进技术,对商品的流通、销售过程进行升级改造,将传统经济体、连锁加盟、互联网商城、分享经济、大健康产业等有机融合,推动集团持续稳定地发展,颠覆和改变人们生活方式。
集团秉承"润泽·至善"的企业文化,"润"是上善雨露恩泽,像水一样,泽被万物,让万物生辉,做一个海纳百川的企业,勇于承担企业责任造福社会。"泽"如公司事业前程,由润而泽,快速地聚人、聚财、聚气。"至善"是所有鑫泰人的胸怀与初心,也是鑫泰的行为指南,他包含了大真、大爱、大诚、大智的一切善念,体现了一个企业整体的道德品格,是企业的出发点,更是最高追求——以至善之心待人,以至善之念做事,是爱的发源地,健康智慧的传播者。
面对未来,公司将坚持"健康、财富、价值"的核心理念,始终以"治未病"、"非药物治疗"、"善终"为指导思想,努力打造一个由会员、智慧养生所、智慧养老基地、高科技生产基地有机相结合的绿色的大健康产业生态圈。海阔凭鱼跃,天高任鸟飞!鑫泰集团将深耕细作,百折不挠,用最执着、最努力、最专业的态度和视角,全力打造世界顶级生物健康产业集群。